Below are a few resources I use and highly recommend which you may find beneficial for your various needs.

BDSM Intensive provide over 12-hours of information on Dominance and submission. Everything you need to know in LIVE & Uncensored discussion with America's BDSM Expert, Dr. Charley Ferrer
Creative Sexuality Education has a singular, guided mission; to offer all adults access to interactive e-learning opportunities from established independent sexuality educators. Honest, straightforward, shame-free online sexuality workshops, webinars, and classes should be available to consenting adults and professionals worldwide, without borders, and that is our ultimate goal.
Dr. Charley Ferrer is a world renowned Clinical Sexologist and American's BDSM Expert. She provide Mentorships Programs and counseling on relationships and sexuality issues in both English & Spanish. Visit her websites to obtain further information on sexual health and relationships. www.instituteofpleasure.org or www.doctorcharley.com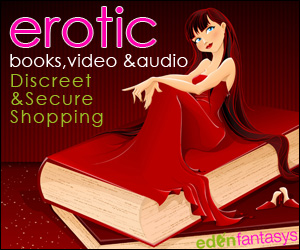 Sex Toys – Sex toys, vibrators, dildos and masturbators from EdenFantasys.com. Our adult shop offers completely FREE standard shipping on $59+ orders. Shop our comprehensive collection of adult toys for men, women and couples. Explore sex positive world with our toy reviews and friendly sex guides.
Kickstart Cart — Best shopping cart in town Affordable and Powerful. It's what I use to share my newsletters with you all and keep you appraised of all my important updates. Plus it's ensures all my eBook get to you instantly upon your purchase. Plus it has a powerful Auto Responder network campaign feature that keeps you connected to your customers. I won't use anything else.
A great way to have fans, followers and customers leave you a quick message on your website. Not just for podcasts, it's good for websites as well. It also allows you to respond with a quick voice mail of your own. Just love that feature. And don't worry that you'll get "foolish voice mails". Caller have to leave their name and email for easy identification.  Best of all, it's basic program is FREE! Check it out and tell us what you think!

Capture Erotica produces spectacular erotic images and provided several of the pictures for our book cover, BDSM for Writers, and in several pictures noted on our website. Contact them for private bookings of your own to share with your loved one or create your own portfolio.
Fantastic way to keep in touch with all your friends and fans without spending hours online trying to re-type the same messages repeatedly. Just write it once and you reach everyone. Plus the pro version allows you to schedule multiple Tweets & FB comments for a time when it's convenient for you to share.
Fetish Tribe provides BDSM Party Events for men and women interested in have a fun night out with friends and lovers in
New York City